Spellings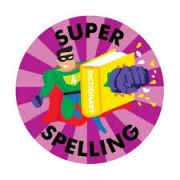 As you may be aware the DFE (Department for Education) have brought out a new National Curriculum for all schools to follow. As a school we have decided to follow this new curriculum this academic year and as you will have noticed from your child's curriculum overview your child will be learning a wide range of skills this term.
As a school we have created spelling lists for the children to learn each term. Attached to this page are your child's
for the Autumn term. It is important that your child brings this into school every Friday so they can record the score that they got in their test and so that their teacher can check that they have been practising their spellings at home. As a recommendation we feel that in order for children to learn their spellings accurately, they should follow the following process: look, say, cover, write,
check. On the spelling lists attached there is a space provided for the children to do this 3 times. As an additional home learning task we feel it will benefit your child's spelling and writing if they were to use a dictionary or the internet to help them write sentences which include the spellings they are learning. For example if the spelling they are given is 'important', they may choose to write a sentence like this: It is important to practise my spellings so that I can improve my writing.
An overview of all the spellings (titled Spellings for School) that your children will be learning throughout the school
year. The expectations regarding spellings have been raised and some of the words are challenging but these are words that they are expected to be able to spell by the end of the year. We would advise that you do keep referring back to previous spellings so your child doesn't forget spellings that they had previously learnt. A glossary shows you the key words that we will be using with the children and their meanings.
In each week of spellings the children will have 7 or more of the letter rule they are learning and the additional words will be age expectation spellings for your child. If your child is really finding the spellings difficult we can arrange for them to have a booklet and be tested on the previous year groups spellings but please talk to your child's class teacher about this.
Below are the spellings for each Year Group. These are the spellings for the current term. The End of Week Email applicable to your child's year group will indicate which week's spellings you will need to practice with your child for their spelling test the following Friday. Some children may have received different lists to support their individual learning needs.