Early Years

Early Years Vision at Springfield
Each child is an individual.
All children learn through different pathways.
Ready to take responsibility for their own learning.
Links to form home school partnership.
Year of wow moments and celebrations.
Yes to confidence building.
Engaging lively curriculum that stimulates learning both indoors and outdoors.
Awe and wonder of the world around them.
Resilient respectful creative children.
Successful self motivated adults of tomorrow.
Spring Term - We are Explorers!
Rainforest
After learning so much about Dinosaurs we decided to explore a different part of the world - the rainforest!
We began by investigating the features of the rainforest and the animals that live there. The children wanted to learn more about endangered animals and how we can help them. This lead us on to discussion about recycling and looking after our environment.
At the Maths Station the children have been learning how to order items by weight. We used the scales to weigh the different rainforest animals and find out which is heavier and lighter. We experimented with different ways to record our results.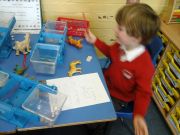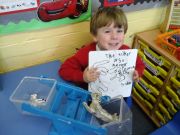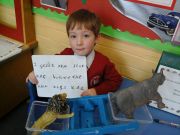 We reallly enjoyed being exploxers in our rainforest role play area. We used a range of equipment and props to support our play and particularly liked recording what animals we had discovered, building campfires and going on adventures.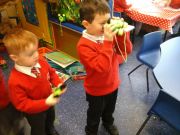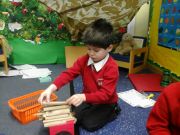 We were also very lucky to have a surprise visit from Ruby the snake!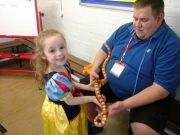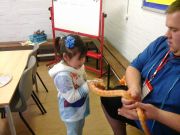 Ruby was very friendly and very long! We enjoyed feeling her soft skin and looking at her beautiful patterned colours. We learnt a lot about snakes too. After that we went outside and drew snake patterns with chalk then we measured them.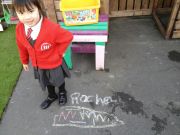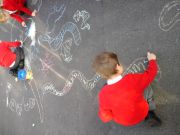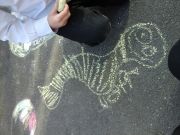 Dinosaurs
The Reception children had a suprising start to thier Monday morning when a meteor came flying down from the sky and crash landed in our outdoor classroom!
The children thought the meteor must have come from one of the cold planets as it was feezing!
They used our information books about Space to find out more information. These children thought it could have been a cosmic snowball!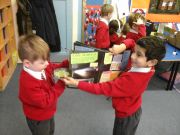 Some of the children noticed there were dinosaurs ecsaping from the rumble!
Immediately we had to design warning posters for the rest of the school and the children got straight to work building a trap to catch the escaped dinosaurs.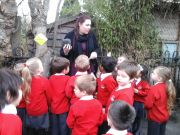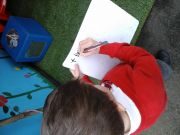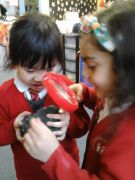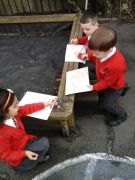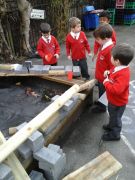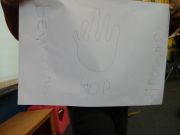 After we went on a dinosaur hunt, but first we had to build a time machine...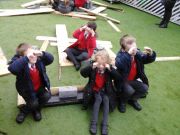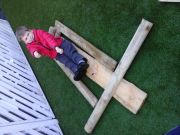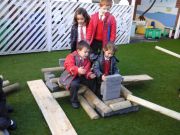 The children worked in teams with a variety of resources to plan and build thier time machines. They thought carefully about the different parts and how their machines would work.
The children are very excited to share thier knowledge and understanding and find out more information about the different types of dinosaurs and their habitat.
We began by sharing what we already know and aksing questions about what we would like to find out.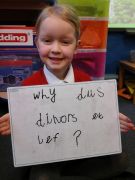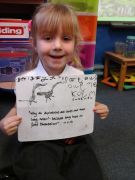 We used a range of books and websites to research our topic and we represented our understanding in a variety of ways.
In the Maths Station we used dinosaurs and Numicon to solve problems involving adding and taking away. We used number sentences to record our understanding.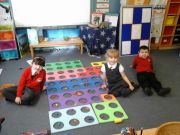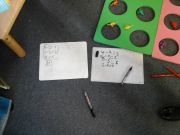 We learnt so many different WOW words to describe the dinosaurs and we made collage pictures using different colours and textures. We used our WOW words to write a sentence about a dinosaur.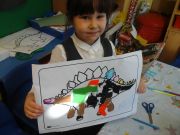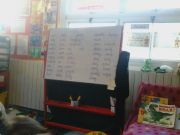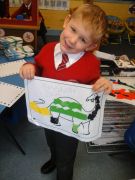 In the outdoor classroom we built our own dinosaur swamp. It was very messy and great fun!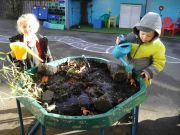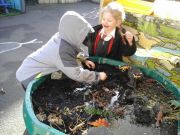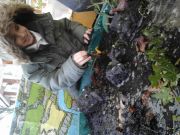 We learnt all about fossils and how they are formed. Then we used salt dough to make our own dinosaur fossil.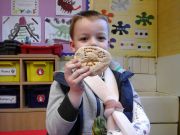 We wanted to share all our amazing dinosaur learning with our families so we decided to make a Dinosaur Museum!
We worked very hard creating our Museum and our families had a fantastic time when they came to visit!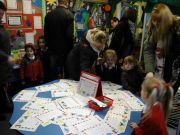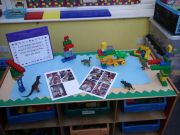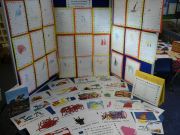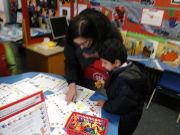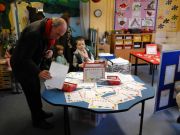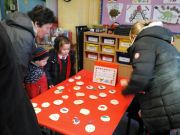 Space
We were so inspired by the astronaut Tim Peake we decided to start our new topic by exploring space.
In the Maths Station the children were very excited to recieve an email from Tim asking us for help!
He asked us to design a rocket to take extra supplies up to the International Space Staion so he could complete his space walk. He also asked us to measure the distance across the Space Station. Our key maths questions were:
How can we measure the distance from one place to another?
Can we use 2D and 3D shapes to build a rocket?
We experimented using 2D and 3D shapes to build rockets.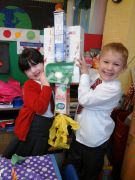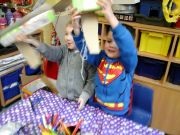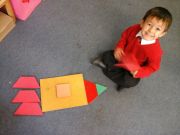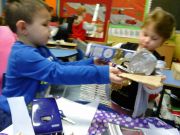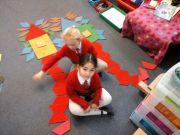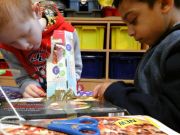 We used a variety of standard and non-standard units to measure length and distance and thought of ways to record our results.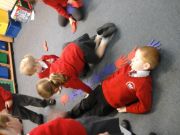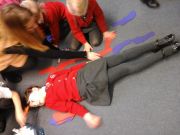 In the Writing Station we used our sounds to write a list of things we would take with us to space in our rocket. We also wrote labels for the different parts of our rocket.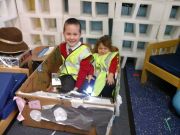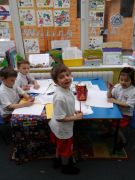 We loved finding out information about the solar system and space in our topic books!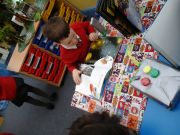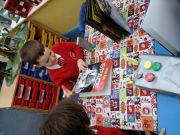 In the Creative Station we made planets using paper mache and painted pictures of the solar system.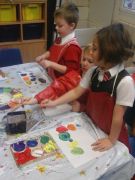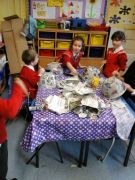 Autumn Term - Mr Bear's Birthday
The children in Ruby and Rose class were very excited to receive their first party invitation from Mr Bear!
There was lots of planning and preparation to be done!
In the Writing Station the children have been busy making shopping lists, invitations and cards. They are beginning to use their phonic knowledge to sound out words independently.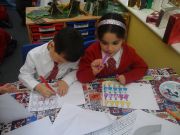 In the Creative Station the children have been making party hats, repeating pattern paper chains and wrapping presents for Mr Bear.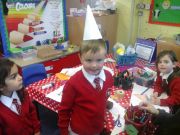 In Finger Gym we have been weaving colourful decorations for Mr Bear's party.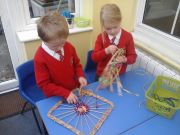 Our Maths question is…
How old is Mr Bear?
Mr Bear is very lucky because he has not one, but TWO birthday cakes! We have been counting the candles for each cake and then adding them together to find the total. Next we started to record our ideas by drawing the candles on the cakes and writing a number sentence. We are very proud of our super learning!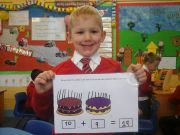 We are looking forward to making some delicious cakes and planning lots of party games for his birthday celebration on Thursday!
Page Downloads