Springfield Primary School Association (PTA)
Springfield Primary School Association (PTA) are a dedicated group of parent and teacher volunteers who meet once half-termly. The aim of our group is to provide many exciting events and opportunities to benefit both the children, school and the local community.
By developing effective relationships between the staff, parents and other local stakeholders, our mission is to advance the education, enjoyment and well-being of the pupils in our school. The SSA aims to help the children and school primarily by providing additional resources outside of the normal school budget. In conjunction with the school, the SSA decide the best use of the money raised.
Every PTA event is an opportunity to meet other parents and you will be part of a like-minded network of people who all share a common goal of improving the school for all our children.
Such events we provide are:
Charity events
Summer Fete
Discos
Family barbeque
Comedy events
Cake sales
Fireworks night
Christmas Bazaar
Examples of where the fundraising money has recently supported the school include:
Marvellous Me
Mathletics
Guest speaker donations
Charity donations to Comic Relief, Sports Relief, Children In Need
Swimming lessons
CPR Training
Outdoor playground equipment and storage
| | |
| --- | --- |
| Joint Chair | Bipan Sharma and Rachael Maynard |
| Joint Secretary | Ruth Mwangi (temporary in roll) |
| Treasurer | Jessica Deacon |
| Voting committee | Becky Grose, Michaela Grose, Leanne Farnden, Gulsum Yildiz Koc, Lauren Hamilton, Sandra Flint |
| Teacher Representative | Ben Davies |
Additional fundraising resources used:
My School Lottery – Make a difference and support your school for just £1 a week. Remember there is a guaranteed prize winner every week and a chance of winning £25,000 in a separate draw. For more information, please go to: www.yourschoollottery.co.uk/springfield
Easy Fundraising: Do not forget to register online and raise a free donation for Springfield School. There are nearly 3,000 retailers on board ready to make a donation, you can now even book your holidays and travel. Just visit: www.easyfundraising.org.uk/causes/springfieldptasot to sign up today.
SSA Noticeboard: Remember to keep an eye out for more updates and event information on the SSA noticeboard by the school gates.
Please feel free to contact us on pta@springfield.surrey.sch.uk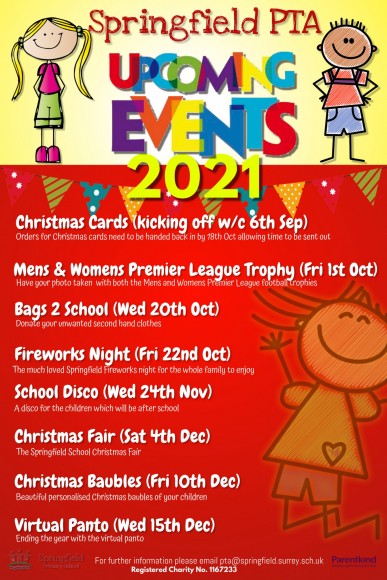 Page Downloads