Lettings
Thank-you for your interest in hiring Springfield Primary School facilities. Below are details of the facilities available. Whether your enquiry is for a regular sporting event, one off hire, drama, dance, fitness class or club, we will do our upmost to accommodate you.
We invite you to read through the information supplied in the downloadable pack below which will answer many or your questions. We will be happy to discuss your individual requirements. In order for us to make contact please complete the Enquiry Form (a Word-format version is available below) and return via email to the Lettings Coordinator at lettings@springfield.surrey.sch.uk In receipt of this form, we will then advise of availability and arrange a lettings meeting and a tour of the site.
The facilities available for hire:
School Junior Hall - £20.55/hour
School Infant Hall - £20.55/hour
Classrooms - £20.55/hour
School field – £18.00/hour (toilet facilities not included)
Hardcore playground - £18.00/hour (toilet facilities not included)
These charges may be subject to additional costs where access to toilet facilities or where the Premises Manager may be required to arrange opening and closing of the school.
For bespoke packages where your letting requires more than one area or for a daily rate, please contact us for a quotation at lettings@springfield.surrey.sch.uk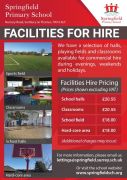 Page Downloads