Clubs
Please see our summer club offer below. All school clubs run by teachers are free. External clubs will require payment and we have indicated the full termly cost applicable to these below. Whilst we cannot guarantee your child a club place, we do try to allocate them as fairly as possible.
Morning clubs run 8:00-8:40am and after school clubs run from 3:20-4:15pm. Clubs run for twelve weeks beginning the week commencing Monday 12th September 2022 and finishing the week ending Friday 16th December 2022. There will be no teacher-led clubs during the week of the 7th November 2022 due to Parents' Evenings taking place. In additional no clubs will run on the INSET day of 18th November 2022.
Texts will be sent confirming whether your child has secured a place in their chosen club and requesting payment for those clubs, if it is an external club. Please do not send in any payments until your child's place has been confirmed. Fee clubs are to be paid in full to the club provider (unless stipulated).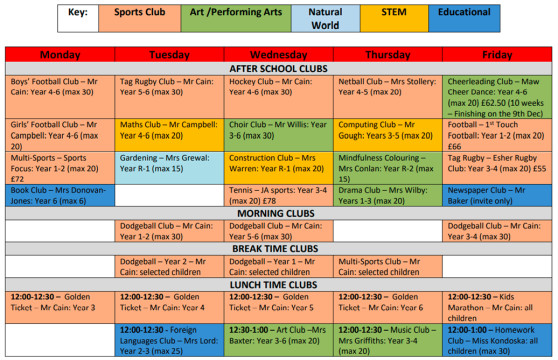 Page Downloads