Clubs
Extra-curricular provision is an important part of Springfield's curriculum. We are excited that with restrictions lifting we are able to offer extra-curriculuar clubs once more.
Morning clubs run from 8.00am-8.40am and after school clubs will run from 3:20pm-4:15pm (unless stated otherwise). The club programme starts from week commencing Monday 10th January 2022, and unless stipulated will finish on Friday 25th March 2022. Childcare vouchers cannot be used towards payment for after school clubs. Places requested cannot be guaranteed, but will be allocated as fairly as reasonably possible. External clubs will require payment, we have indicated these in the schedule below.
School-led clubs run by teachers will be free of charge. There will be a charge for clubs run by external providers and these are indicated in yellow. For external clubs, please ensure your child is committed to attending, as non-attendance will still be charged. Please complete the slip below indicating which club your child would like to join and giving your permission.
Texts will be sent confirming whether your child has secured a place in their chosen club and requesting payment for those clubs, if it is an external club. Please do not send in any payments until your child's place has been confirmed. Fee clubs are to be paid in full to the club provider (unless stipulated).
There will be no teacher-led clubs on during the week parents' evening take place (7th to 11th March 2022).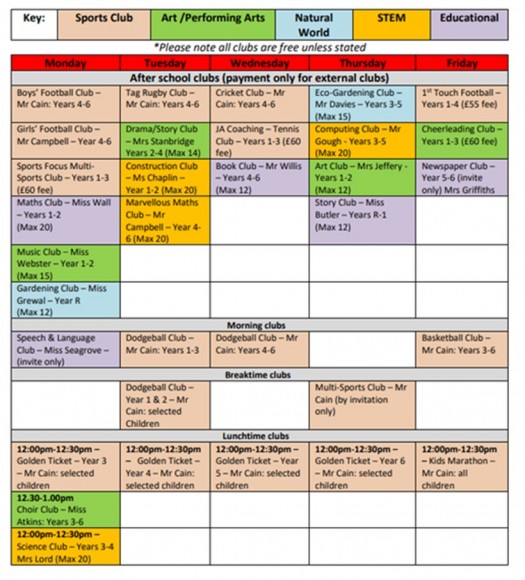 Page Downloads