Sports News
Springfield All-Blacks Set Up Quarter Final After Seven Goal Thriller
The boys played their first cup match of the season on Tuesday as they entertained Spelthorne Primary. What ensued was to be an exhilarating game for the neutral (despite there never being any neutrals at these events). After beginning the stronger team and spurning a few early chances, Woody put Springfield ahead. However, somewhat unexpectedly, the visitors responded shortly afterwards with an equaliser. On the stroke of half time, Woody again showed excellent composure as he completed a slick Springfield move. After a magnificent reactive save from Finlay, half time was poised at 2-1.
Despite Springfield having the lion's share of possession and chances, Spelthorne showed how clinical they were in front of goal, equalising again shortly after the interval. Coming off the bench, Max and Leeyon breathed new energy and creativity into the team. It was the former who put us ahead with a phenomenal dink over the keeper to score the goal of the game and surely seal it… or so we thought. 3-2. Within a minute, Spelthorne levelled for a third occasion, with their main striker cleverly placing a deft touch beyond our advancing goalkeeper. With time elapsing the boys knew they had to kill the game off once and for all, upping the ante with greater energy and intelligent movement. Once again, Woody made a great move off the ball, dispatching his effort emphatically to complete his hat-trick, and the winner! 4-3. A frantic end to a truly enthralling encounter. Springfield will be relieved to be back to their free-scoring ways as they set up what will be a challenging fixture against Laleham for a semi-final spot.
Well done to Woody for his hat-trick, his sublime composure earning him my Man of the Match award. An honourable mention to Max for his superb goal to make it 3-2, along with strong performances from Jack L, Jack W, Finlay, Daniel, Ollie, Joao, Joe O and LJ.
Sporting "Wall of Fame"
Having been inspired by our shiny new trophy cabinet at the front of the school, we have also decided to resurrect the sporting 'Wall of Fame' which will now be placed outside the Assembly Hall. If your child has received a special sporting trophy, medal or certificate recently outside of Springfield, please could they bring it to Mr Carlisle. They will have their picture taken along with a note of what they have accomplished. We would love to showcase a wide variety of sporting achievements as possible!
Springfield 0-1 Echelford
The new league season for the reds began valiantly yet tinged with frustration as we hosted our bitter rivals Echelford. Not knowing what was to be anticipated, the match begun as a cagey affair, with neither team willing to make any costly errors. From the start it was evident that their star striker was the game's biggest threat, as he rattled the crossbar for the first half's only significant chance. In the second half, the energy from the two teams spiked, with the feeling that the first goal would prove decisive. After a one on one with the keeper, Jack was unfortunate not to put us ahead. Then, with 5 minutes left on theclock, their key player had us soundly beaten with a sublime effort into the top corner. On the balance of play, the opposition were just about worthy winners. But like we always do, we are determined to rise again. The cup and the league are still to play for, if the results can go our way. My man of the match award goes to Finlay, who was phenomenal between the sticks. On one particular occasion, he demonstrated reflexes which would have made David De Gea envious. An additional well done to Jack W, Ollie, Bobby, Woody, Joao, Joe P, Jack L, Leeyon and Mitchell. Ain't nothin' over til it's over!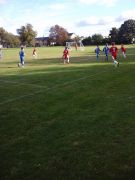 21.10.16
Dodgeball team- Surrey Schools Bronze Medallists!
Anyone who knows us here at Springfield knows that we love a game of dodgeball- arguably the most popular sport at school! Wednesday 13th April gave us the opportunity to showcase our talents in this sport, as we participated in the Surrey Finals. The format was to play best-of-three 2 minute games in order to win a match. We immediately hit the ground running and found ourselves on a hot streak, winning four matches on the spin. In our fifth match, we narrowly lost the tie 2-1. However, this enough to triumphantly secure our spot in the Semi Finals! With the contest tensely poised at 1-1, our opponents were simply too strong; we were eventually undone by one classy player we were unable to eliminate.
Although defeated in the semi-final, we quickly lifted our spirits and made the decision to scrap for a medal. Our rivals this time were Rowledge Primary, who had narrowly beaten us previously in the group stages. With desire taking over, Springfield were ruthless in their dismissal of the opposition this time, winning all three rounds! Considering this competition was at Surrey level as opposed to Spelthorne, this was a truly outstanding achievement for all involved. We are incredibly proud of the team, not simply for their skill on the court, but for the spirit, fortitude and resolve they showed as they fired themselves up for the Bronze Medal Match. Additionally, Troy was selected as the tournament's star player by the officials- an astonishing achievement and a precious medal for the children's collections. Well done to Kai, Troy, Callum, George, Ben, Arin, Tianna and Anna. Springfield is immensely proud of you.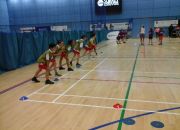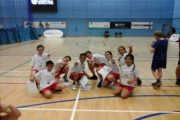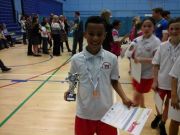 Football- Boys Secure 2nd Place in Division 1.
Before the Easter break, the Boys' Football Team travelled to Spelthorne School to play their final league match. The hosts defended resolutely and were incredibly challenging to break down. Despite having the lion's share of possession, we were unable to make it count for large parts of the game. Thankfully, our super-sub Jake (affectionately known as 'the fox in the box') pounced on two opportunities in the opposition penalty area to give us a deserved 2-0 victory. Another win and another clean sheet for the boys who will play St Nicholas Primary in the Semi Finals of the Wallage Cup next week. Well played Ollie, Kai, Nicky, Troy, Ben, George, Joao, Woody, Callum and Jake (man of the match).
Spelthorne Schools B Tournament
Last Thursday the Springfield 'B' team travelled to Buckland to participate in the second annual tournament for second-string teams. Dressed to impress in our new black away kit, we were determined to place well and avoid the negative tagline of 'all the gear and no idea'. Before we could advance into the knockout stages we had no less than five matches to negotiate. During this group phase we won three matches and were actually unfortunate to draw two. Comfortably, we advanced to the semi-finals without a single loss or even a goal against our name! With our tails up we took on Buckland for a second time, playing some incredibly slick football in forging chances with some intelligent through-balls. After missing a gilt-edged chance earlier in the game, Woody deservedly clinched the winning goal to send us into the final.
In the final itself we came up against an incredibly strong St Nick's side, who simply had too much for us to handle. After scoring twice in quick succession, they secured the victory, despite our spirited efforts to fight back. The boys were disappointed with the result after becoming accustomed to victory; however, they should feel immense pride for what they have achieved as silver medallists in such a competitive event. Well done to Callum, Dylan, Stan, Jack, Ollie, Joe O, Joe P, Woody, Joao, Ben and Jake. You served us well boys!
Group Stages
Laleham (W) 1-0
Buckland (D) 0-0
Ashford Park (W) 2-0
Our Lady of the Rosary (D) 0-0
Riverbridge (W) 1-0
Knockout Stages
Semi Final: Buckland (W) 1-0
Final: St Nicholas (L) 0-2
Reds comfortably into Cup Semi Final:
Springfield 5-0 Ashford Park
On Wednesday 23rd the defence of our Wallage Cup title continued as we hosted Ashford Park. Unexpectedly, the game got off to an encouraging start for us as a mix-up between defenders led to an own goal inside two minutes. Soon afterwards, Troy took advantage of a loose ball to intricately nick the ball the advancing goalkeeper. The goal of the game was irrefutably Callum's- to put the score at 3-0; a curling stunner from distance which hurtled into the top corner. Afterwards we received another touch of good fortune as Callum's second effort was fumbled by Ashford's luckless goalkeeper. In the second half, George sealed the victory with a calm effort into the bottom corner.
Despite our 5-0 triumph, this was a truly demanding game in which it was hard to dissect our stubborn opponents, who placed many bodies behind the ball. Our character will be well and truly examined as we will now face St Nick's in the Semi-Final, with the possibility of fashioning a dream Cup Final against who else but Echelford. One game at a time. Bring it on.
Mr Carlisle