Geography
Aims and Overview
We provide a stimulating and enriching learning experiences that ensures geographical and environmental understanding and provides them with a rich cultural, moral and spiritual understanding of the world in which we live in. Teaching is stimulating, exciting and provides the children with key life skills such as teamwork, empathy, communication, language, thinking and independence skills which will develop them both academically and socially.
Whole School Events
The children enjoy taking part Geography based whole school projects. Recently the children created some outstanding work as part of the Young Geographer of the year competition. The focus for the project titled: 'Remapping our lives' was part of a nationwide competition run by the Royal Geographical Society and was a chance for children across the country to develop their Geographical skills and showcase this in a single piece of work. The children across the school completed some excellent work, with one from each year group winning a small prize for their efforts.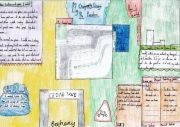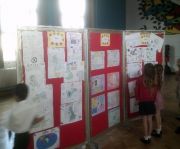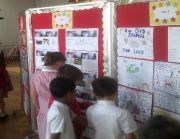 Yearly Overview
In Year 1 the children develop their knowledge of physical geographical features through drawing simple picture maps of an imaginary woodland within the topic The Enchanted Woodland. This includes features such as evergreen and deciduous trees, paths, clearings, grassy patches, a stream, gates, fences and dens. They learn to create a simple key and extend their learning by building their mini woodland in sand and mud trays. Within the topic, Bright Lights Big City they use world maps, atlases and globes to identify the UK and its countries, as well as the countries, continents and certain oceans. During the Summer term the children learn that a settlement is a place where people live and work and can be big or small, depending on how many people live there. They find out about the differences between towns and cities and investigate different types of urban settlements.
In Year 2 children within the topic Wiggle and Crawl identify seas and oceans surrounding the UK using maps and satellite imaging. Make simple sketch maps to show the UK and the location of each sea or ocean. They have fun creating a colour key to show the different weather in the places Captain Cook went on his journey around the world. They locate Hawaii, Australia, New Zealand, Tahiti and the province of Newfoundland on a world map or globe. They have fun looking at real and imaginary treasure maps to identify a range of human and geographical features. They then make an imaginary treasure map, adding lots of exciting features and giving them pirate themed names and include a compass for describing locations and create a simple key. In the topic Street detectives they walk around local area to collect data about human features, including shops, libraries, housing, car parks, bridges, schools and churches. They also use satellite imaging tools to look at a number of aerial images of the local area and describe what they can see. In the topic Scented Garden children learn where Brazil is on a map. They then use atlases to make comparisons between Brazil and the U.K. In the atlas it will compare: terraine, weather, size, population and environment.
In Year 3, the Mighty Metals topic gives the opportunity for children to identify and plot on a world map: latitude, longitude, Equator, Northern Hemisphere, Southern Hemisphere, the Tropics of Cancer and Capricorn, Arctic and Antarctic Circle. They discuss what different time zones are and research where metals come from for a brochure produced at the end of the unit. In the topic Urban Pioneers, the children identify a local urban location using an Ordnance Survey map and use four-figure grid references to locate significant human features Use Ordnance Survey Maps to plan the local school trip. Class to identify the route they will take and the different things they would like to see. This culminates with the children writing a one minute promotional speech explaining what is great about their city or town to showcase their Geographical learning journey. In the unit Tremors they use a world map, globe or atlas to identify the locations of volcanoes, including the remarkable 'Ring of Fire'. They also make simple sketch maps to show volcano locations, indicating main towns, cities and continents, oceans and other significant geographical features.
In year 4 Misty Mountains Sierra topic, children look at a range of diagrams that show the five main mountain types, adding labels and captions to explain them clearly. They order images to show how a mountain forms and annotate each stage. They then have fun building the different types of mountain, using soil, sand and other soft materials, making sure that each mountain type is the correct shape. They explore a range of contour maps to see how height is represented. They trace contour lines, noting that they join together places of the same height and form patterns that help us to imagine what the land actually looks like. They have fun demonstrating how plants grow in vegetation belts, which are characterised by different temperatures, altitudes and other conditions, using a range of found materials, including grass, stones, moss, leaves, sticks and other found natural items to represent these zones on a mound of earth or sand. In the topic Burps, Bottom and Bile they explore and learn about the three stages of a river. They explore the River Trentand trace its journey to its mouth at the Humber Estuary. As the children track the river's journey, they note down any physical and human features they can see and record these. In Blue Abyss the children use maps, globes, aerial images and atlases to identify the world's oceans and seas. Identify their position in relation to the equator, the Tropics of Cancer and Capricorn and the Arctic and Antarctic Circles. They then, locate the Great Barrier Reef using maps and satellite images, identifying significant land features, towns, islands and the different reefs themselves.
The Year 5 the Allotment topic gives the children use a local council website to identify the locations of other allotments in the area. They search for these on an Ordnance Survey or online map and use maps and the data provided to find out the size of each allotment plot and the key geographical or human features nearby. They later in the unit annotate world maps to show the origins of some fruits and vegetables and find out how many different types of farming are in the UK, using web based maps to identify which regions support each type. They draw a sketch map of the UK showing the different regions and plot their village, town or city on the map to see which region they are nearest to. A fact file is produced about farming practice in the UK, considering how geography has influenced this. In the topic Alchemy island children learn about the eight points of a compass, and use rhymes to help learn the different compass points. They are given primary atlases and introduced to four and six-figure grid references, using them to locate places on an Alchemy Island map. They go on to use compass knowledge to compare different countries on a world map and plot routes. Within the topic Scream Machine the children locate the most popular theme and adventure parks on a map of the UK and find out where they are in relation to urban and rural features and transport links. They work out which theme park is nearest and plan a trip, outlining the route that they would need to take from home. This feeds into their final project, which is to create a brochure including this geographical information.
The Year 6 Blood Heart topic children locate on a World Map where different London Marathon winners are from and where specifically marathons are run across the United Kingdom. They then look at where marathons take place around the world locating these on a world map and using grid references to mark locations. In Frozen Kingdom children use globes and atlases to find and name both polar regions and other significant geographical features of the world. They make a simplified global map showing the locations of these features, add a key for information and Identify and record the longitude and latitude of both polar regions, specifically the geographic North Pole and South Pole. They then have fun working in research teams to identify the similarities and differences between the Arctic and Antarctic. They record data and information in simple charts, tables or spreadsheets, using headings, such as Climate, Population, Settlements, Animal life, Plant life and Seasonal change. In Darwin's delights they use physical and online maps to plot the route that Darwin took on HMS Beagle, highlighting places that he visited, including the Cape Verde Islands, the Falkland Islands, the Galápagos Islands and Ascension Island. They find the longitude and latitude for each place and explain how it relates to the equator and the Northern and Southern Hemispheres and use scaled maps to estimate how far Darwin travelled in total. Using this knowledge they plan an expedition across the Galápagos Islands that will help them take in the incredible sights and sounds. In the topic ID, the children find places within the local area and use satellite imagery to look at a number of different geographical locations and environments further afield. They discuss, as a group, their individual preferences for places to spend time anywhere in the world.
Click here to view the year group subject overview
Page Downloads