Art and D.T.
At Springfield, art and design technology gives all children the opportunity to be independent learners, work collaboratively and express themselves creatively whilst learning about different cultures around the world. Our progressive curriculum enables pupils to design, make and evaluate projects whilst using and applying technical vocabulary. We deepen children's knowledge and understanding of the history of art and design technology, whilst studying famous artists and designers.
Our intent is to inspire, challenge and progress children within their own artistic journey. We believe that art and design technology gives children the skills, confidence and imagination that transfers into all subjects across the curriculum. We develop pupils' skills and knowledge to create a final masterpiece in either art or design technology. Our Curriculum Room, allows children to work collaboratively and express their artistic flair using a range of resources. Sketchbook are used to showcase their learning and progression across units of work and the year.
We are dedicated in giving young artists as many opportunities as we can by participating in competitions and events. In 2021, we became part of a Guinness World Record title through contributing to the largest postage stamp design competition.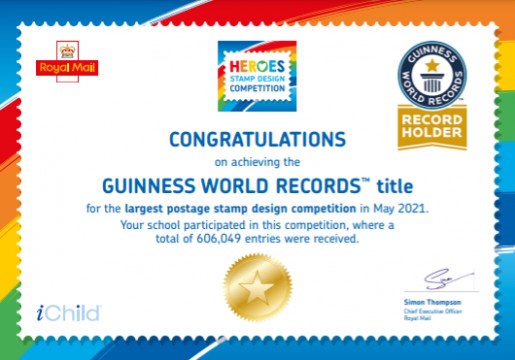 Art
All pupils are taught a progressive range of different techniques which help them think critically and develop their understanding of art and design. Our high-quality art and design education engages, inspires and challenges pupils, equipping them with the knowledge and skiils to experiment, invent and create their own works of art, craft and design. We use a wide range of materials and resources to support this. Through artist studies pupils reflect and understand how art has shaped our history, contributed to the culture, creativity and wealth of our nation.
Design Technology
Design technology is an inspiring, rigorous and practical subject which gives pupils essential life skills. Using creativity and imagination, pupils design and make products that solve real and relevant problems within a variety of contexts, considering their own and others' needs, wants and values. As the National Curriculum specifies, pupils acquire a broad range of subject knowledge and draw on disciplines such as mathematics, science, engineering, computing and art. Pupils learn how to predict, become resourceful, take risks, critical think and evaluate their designs. Emphasis is put on the importance of oracy during these lessons to help pupils build confidence, perseverance and improve their well-being.
Please click here to view the year group curriculum overview